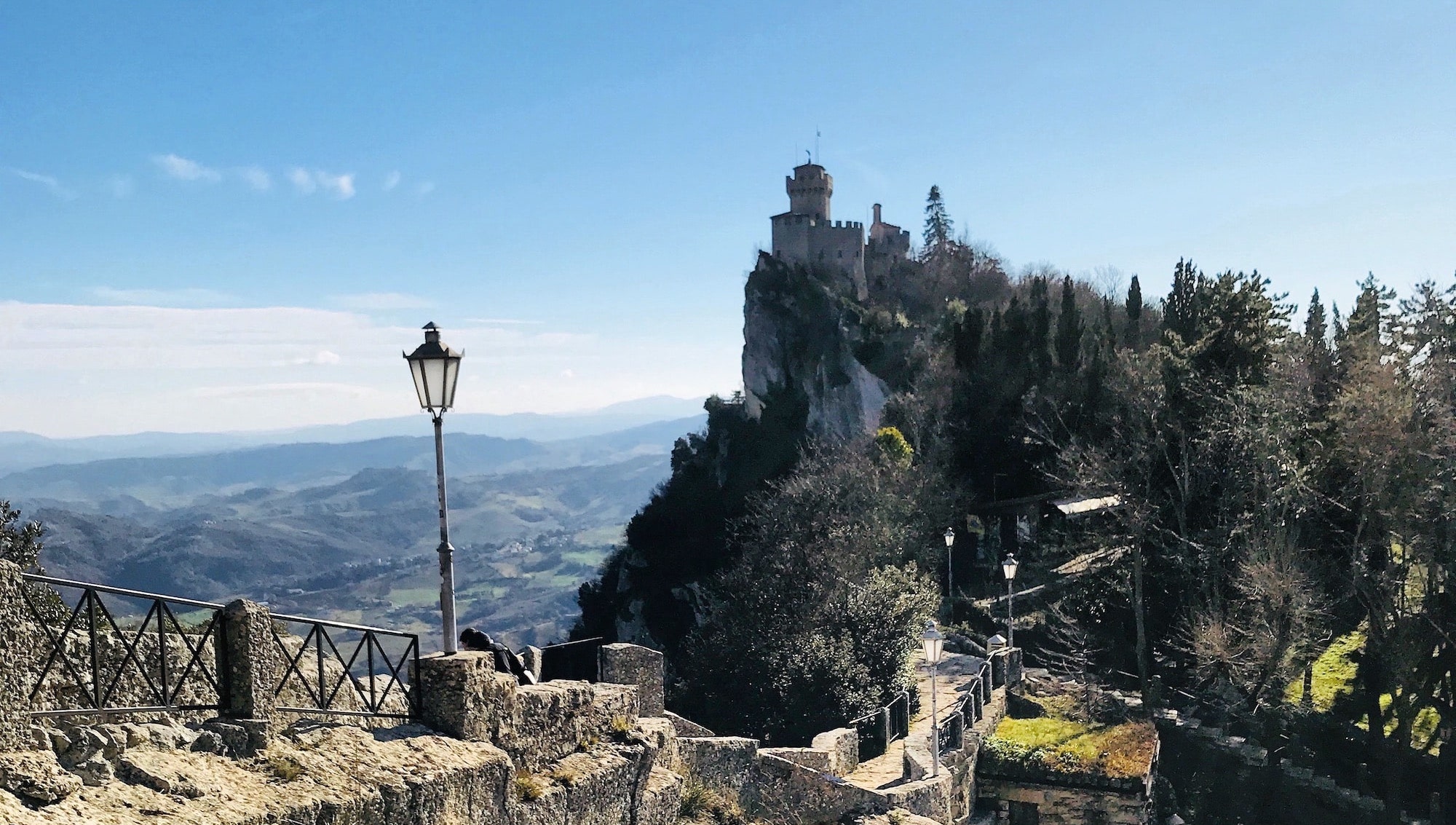 Tips
Our learned-by-experience tips for making the most of your visit to San Marino:
Our suggestions for when to visit San Marino, organized by season, are:
+ Spring: May and early/mid-June are widely considered the best months to visit, as the weather is warming but not yet too hot, the grapes are growing, and the summer crowd has not yet peaked.
+ Fall: Visit in mid/late-August or early September for the wine harvest (the timing varies slightly each year based on weather conditions) or in late September and October for the changing leaves and fall colors.
– Summer: If you have flexibility, avoid visiting during the summer (late June through August) as it gets very hot and crowds are at their largest (especially during the day). Visiting for the grape harvest is an exception.
– Winter: Aside from the weeks of Christmas/New Years and the Lunar New Year, winter is much slower. Avoid the remainder of January following the end of the full Christmas holiday, as many restaurants and cultural institutions either close or cut back on their hours.
How to get to San Marino – public transportation
All public transportation to San Marino routes through Rimini, whether you're flying direct (it's the nearest airport to San Marino, which does not have an airport of its own) or originating in another Italian city.
Getting from Rimini to San Marino:
A regular bus service runs from just next to Rimini train station to San Marino (summer 2019 timetable).

If arriving in Rimini by train, exit the train station through the main exit (toward which everything funnels), and make an immediate right onto a boulevard divided by a median. Cross the street so that you are walking against traffic as you walk away from the station. Walk down the street 40 meters and you will see a sign (see photo) for "Autolinea Internazionale Per S. Marino". The bus will pick you up there, and you can buy tickets on the bus.
The bus takes 50 minutes to reach Città di San Marino and makes seven stops along the way at various waypoints in both Italy and San Marino. We recommend sitting on the left hand side since you'll have the best views of Mount Titano once you enter San Marino (though the views are better on the right-hand side while you are still in Italy).

The bus to San Marino City arrives at Stazione Autobus San Marino – Rimini (parking lot one). From there, most hotels and attractions in Città di San Marino are within a 15-minute (uphill) walk.

Most hotels will offer complimentary transfer from the bus station/nearest bus stop to the hotel given advance coordination. However, most hotels in the city center (including our favorite, Hotel La Grotta) are limited in what they can offer due to their pedestrian-only location within the city walls.
How to get San Marino – private vehicle
If you are planning to rent a car:
Europcar has an office next to Rimini train station.

Car rentals are also available at Rimini airport, Bologna airport, and in all other major Italian cities/airports.

Italian car rentals are valid in San Marino.

Make sure to specify if you need a vehicle with automatic transmission, as it is not assumed.

Parking in San Marino is a mix of private (outside of the city) and public (in the city):
Outside of the city most accommodations, restaurants, and attractions offer free, on-site private parking.

Inside the city you will need to park in one of the public lots (with the exception of a couple of hotels that have private garages/spaces).

Most hotels in the city will provide you with discounted parking (4 Euros/day) in a particular lot. As such, if you are arriving by private vehicle contact your hotel beforehand to ask for their suggestions for where and how to park your vehicle (many reach out unsolicited with this information after booking).
How long should you spend in San Marino? That's inherently a difficult question to answer, as it depends entirely on what you want to experience. But since nobody likes that answer, we are instead going to suggest how much time we think you need to fully enjoy each of our top experiences:

In short, you can/should spend anywhere from a few hours to a full week in the country, depending on your interests and aspirations. We'd love to work with you to understand what those are, and to help you make the most of your time in San Marino.
Entry and exit requirements
San Marino has an open border with Italy, and you will not pass through immigration on the way into or out of the country. As such, entry and exit requirements are the same as they are for visiting Italy.
Note that San Marino is not a full member of the European Union or the Schengen Agreement, so full days spent in San Marino do not count against the 90-within-180 days that Americans and Canadians can spend visa free in the Schengen Area.

Persons staying less than 31 days do not need to report to any local authorities. If you are staying for more than 31 days, visit the San Marino tourist information office for instructions on whom to report to.
Disappointed that you won't pass through immigration? You can still get your passport stamped! See our The Novelty Of It page for details.
San Marino's currency is the Euro. Credit cards are widely accepted, though far fewer merchants accept American Express than Visa or MasterCard. However, some entities only accept or strongly prefer cash.
ATMs are available throughout the city.

If you need to exchange foreign currency into Euros, we suggest that you do so in Italy before arriving in San Marino. If you need to exchange in San Marino, your best option is Banca di San Marino, located below the city walls. You will need to bring your passport and limit the size of the transaction.
Pack and wear comfortable walking shoes
Città di San Marino is built on the upper slopes of Mount Titano, with winding, narrow streets. Walking - and walking uphill - is a necessary part of the experience. As such, wear comfortable, supported walking shoes during your visit.
If visiting in winter/cooler months, wear layers rather than heavy garments, as you'll want to be able to shed one or two during longer stretches of uphill walking. Trust us on this one.
If you are planning on visiting any museums (including the towers) in San Marino, there are two easy ways to save some money:
Most museums (including the towers) cost 4.5 Euros to enter. However, a two-museum ticket can be purchased for 6.5 Euros. In addition, a combined museum pass (good for all state museums, including the towers) is 10.5 Euros.

If you are staying overnight in San Marino, ask your hotel for a TuttoSanMarino Card (most will offer it to you unsolicited upon check-in). This card will provide you with discounts on public museum tickets (single, two-museum, and combined), as well as on entrance fees to private museums, in some souvenir shops, and in some restaurants. Whenever you need to pay for something, show the cashier your TuttoSanMarino card, and ask if they accept it.
San Marino is self-aware of its status as a tourist destination and novelty, and the quantity of souvenir shops in the city indicates as much. Carvings on locally sourced Marinese stone make for a beautiful, traditional gift. For enthusiasts, San Marino coins and stamps make for a novel addition to a collection. And finally, consider picking up a bottle of Marinese wine if you're not going to visit one of the wineries.
Getting around San Marino – public transportation
Public buses run throughout the country, but not within the old city walls. Service is regular but frustratingly infrequent (even during the day and in peak season), and it needs to be planned carefully in advance. You can purchase tickets in any convenience store and in some cafes (but not on-board the bus). Please note that public transportation does not operate on Sunday.
Most restaurants add a "coperto" (effectively a cover charge) of 1.5 Euros/person to your bill (sometimes slightly more and sometimes slightly less). You will see this noted on their menu, and it is a common practice (both in San Marino and in Italy). If you want to dig into why this is the case, there is lots of information and discussion about it available online.
Tipping is optional, but 10% is appropriate for good service, especially in more upscale establishments.
Many restaurants (and shops and cultural institutions) are closed on Monday after staying open for the weekend crowd.
San Marino has a network of licensed guides, each with certification as a tour guide, environmental guide (for outdoor activities), and/or group/delegation organizer. They offer a standard set of packages and charge fixed prices, which vary based on the type of tour, length of tour, number of persons, and a couple of other factors.
Persons with mobility challenges
The San Marino For All website has detailed information on accessible experiences, routes, accommodations, dining, and more.