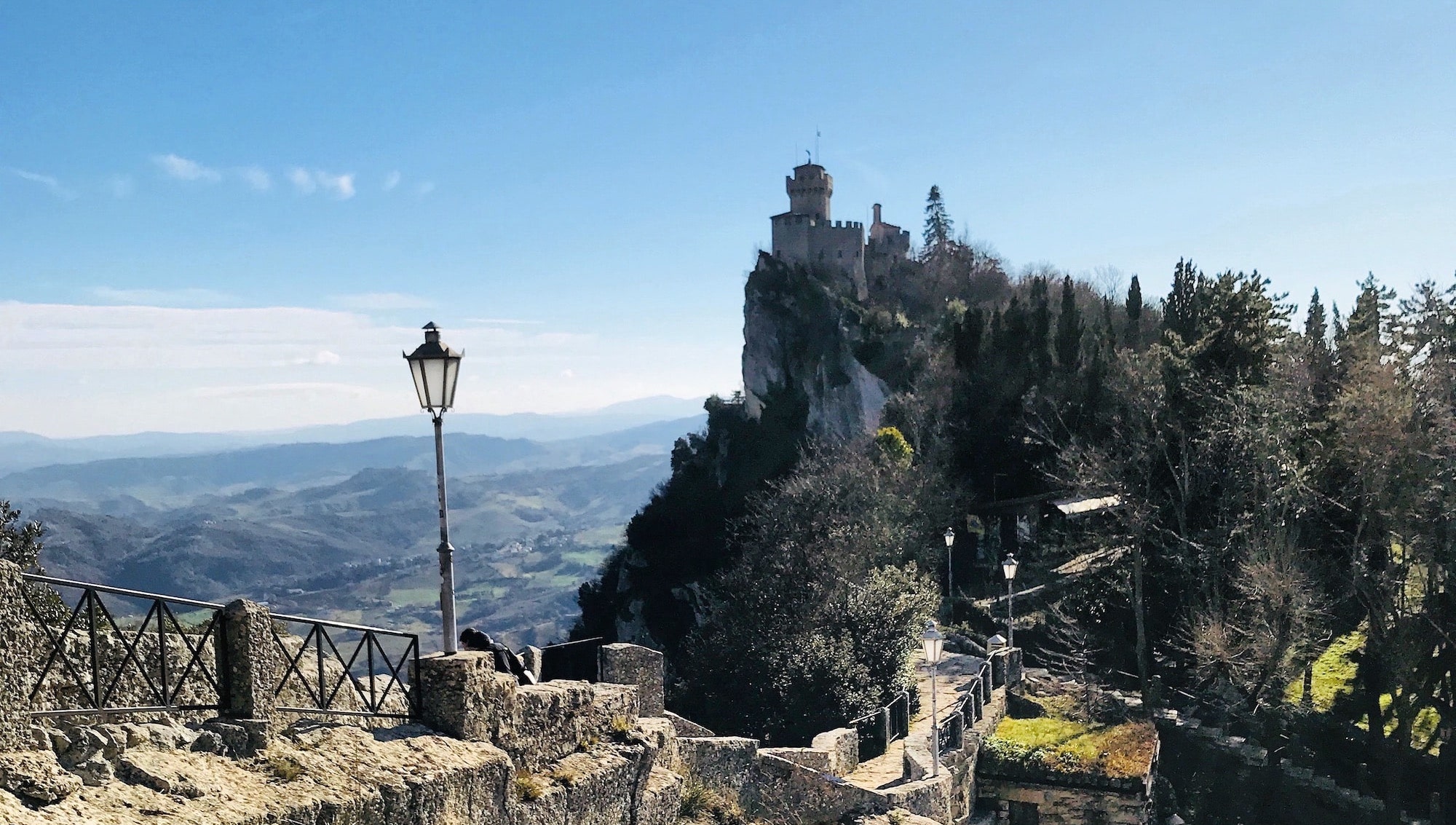 With its mountaintop city center, excellent wine and food, and truly unique history,
the Republic of San Marino (San Marino) is both the world's oldest republic and one of Europe's fastest growing destinations. Tracing its roots back to Saint Marinus in the year 301, San Marino is proudly independent from – yet seamlessly integrated for visitors with – neighboring Italy. A full, rich, and increasingly popular destination, visit San Marino either by itself or as a stop on a larger Italian adventure.
Despite being only 61 square kilometers (23 square miles) and home to less than 35,000 people, there's much more to do, see, and taste in San Marino than most realize. Our top five reasons to visit are:
Perched on top of Mount Titano, Città di San Marino (the city) is the focal point of most visitors' time and experience in the country. With old fortifications; narrow, charming streets; a plethora of museums, churches, and cultural institutions; and excellent dining and accommodation options, it's easy to see why the entire city has been designated a UNESCO World Heritage Site.
San Marino may be a microstate, but it's not a city-state. And we'll let you in on its best-kept secret: a stunningly beautiful countryside. Experience the best of it by staying at one of two excellent rural B&B + wineries, both of which are excited to teach you about the Marinese grapes they grow.
Take advantage of the country's (and surrounding Italy's) rolling hills and quiet back roads for long, picturesque, and (if desired) quad-crushing rides. San Marino has invested heavily in its cycling infrastructure in recent years, providing would-be riders with easy access to routes, equipment, and guides.
There are few places in the world that share the off-the-beaten-path beauty of rural Italy. Rent a car for the day and drive along beautiful, winding, and hilly secondary roads linking Gradara, San Leo, Saludecio, and Santarcangelo di Romagna with San Marino and with one another.
A geopolitical outlier that harkens back to the days of Roman city-states more than it reflects the realities of today's world order, San Marino is both proud of its independence and self-aware of its novelty for travelers. So, embrace and celebrate it, as the Marinese do!
San Marino also has excellent accommodation and dining options to enjoy, and we have a set of informed-by-experience tips to help you get the most out of your visit.
Are you as excited about San Marino as we are? If so, we'd be thrilled to work with you to design and plan your visit. Please contact us about our trip planning service to get started.